Multicultural Literature and Composition* (ML)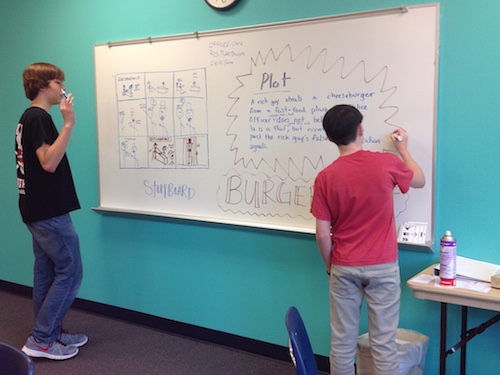 Learn about "Honors" option here: Honors Details
*Class may be renamed. Instructor can work with parents on requirements to fit transcript needs.
Grades: 9-12
One core credit
DOE course codes: 23.06100, 23.06200, 23.06700*
One 90-minute class, weekly
This is a great class for students who think they don't like English classes, and/or students who are up for learning a variety of college and life skills in addition to traditional writing and reading. ML is an active class that takes place in an encouraging environment. The skills of literary analysis, writing, and speech are taught simultaneously since much of the structure and style of oral and written communication are complementary.
Units of literature focus on short stories, poetry, visual media, and nonfiction, including Outcasts United and Oedipus Rex, teacher handouts, Internet resources, and selected short stories and poems from Perrine's Literature: Structure, Sound, and Sense (ISBN 0155511084). Students are taught the rhetorical framework of fiction and nonfiction, investigating literary analysis skills one can build on for future AP classwork if desired. Optional, extra-credit summer reading can contribute to literature requirements and may cover August classwork if parents desire to start the course before Labor Day.
The composition aspect of the course covers organization and editing skills needed for ACT and SAT essays, college/scholarship applications, discussion/exam-style essays, speaker analyses, resumes, article responses, resumes, and other practical writing. Targeted grammar study is included in editing workshops, useful for those who have a mind for grammar and/or those with an ear for error correction. Teacher feedback in writing and speaking focuses on encouragement and "next steps" rather than punitive or negative assessment. Having said that, there is accountability for each student to grow and work toward his or her writing being able to match up with standard written English. Students often turn in writing assignments during the week via email, making this a part-online/part-classroom experience. Students practice meeting deadlines and assignment details, with penalties (and rewards!) increasing over the semesters. Graded work is promptly sent home for parent perusal. Spring projects include an MLA-style research paper on a career chosen by the student and a formal, persuasive speech.
The oral communication aspect of ML starts with non-intimidating assignments in order for students to build basic communication skills with a group, and comfort for themselves. The class progresses through stages until basic solo speeches found in Speech 101 in most universities are presented, and life skills such as persuasive speaking and communicating in group settings are practiced. We also practice job interview skills, non-verbal communication, small group consensus, and impromptu speaking. Students practice design and use of various visual aids such as PowerPoint, posters, white board, and demonstration tools.
Optional reading can add extra credit and/or honors credit. See list and plan here: Reading List
Required Texts: Perrine's Literature: Structure, Sound, and Sense (ISBN 0155511084) and Outcasts United (ISBN 97803855222045)
Tuition info available on the respective sites:
Would you like to meet up and talk about this class? Contact Margaret at shumanhw@gmail.com or text at 678-772-1644. We can meet for a walk or for coffee/tea at a location that works for us both! You can also visit any Shuman class with or without your student, any time.
Formal Course Description
Honors Details
---
Advanced Placement (AP) English Literature and Composition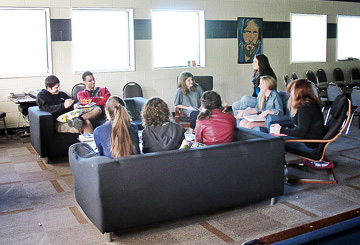 Grades: 10-12, 9 with permission
DOE course code: 23.06500
One core credit
One weekly class with two 90-min periods
Prerequisites: At least a B in two previous high-school level English classes and motivation to do college-level work.
This seminar-style course provides an opportunity for students to dig into literature in an analytical way, writing about and discussing the content and context of classic works. Through study of writing techniques, literary terms, and backgrounds of literature from various centuries and cultures, students investigate literary analysis and learn to navigate through some of the powerful worldviews of history, from Greek to African to European, and from existentialist to feminist to Christian. Discussion, research, mapping, and analytical writing lead to drafts and revisions of essays and explications, and study of past AP exams makes the optional, national May exam more friendly to the student. Despite this serious description, students actually enjoy the give and take in the discussions and the chance to dig deeply into interesting material. Much of the class is interactive and hands-on. Optional summer reading can add extra credit.
Texts: Perrine's Literature: Structure, Sound, and Sense (ISBN 0155511084) and classic literature such as Antigone; Othello*; Doll's House*; Cry, the Beloved Country; The Plague; One Day in the Life of Ivan Denisovich; The Glass Menagerie*; Death of a Salesman*. (*included in Perrine text, which is cheap to purchase used online or from previous Multicultural Lit students)
Want to visit a class? Please drop into any of Margaret's classes at any time.
Tuition info available on the respective sites:
May national AP test fee and books not included in price of class. Books may be acquired used or at a special group rate that instructor will arrange.
---
British Literature & Composition (BL)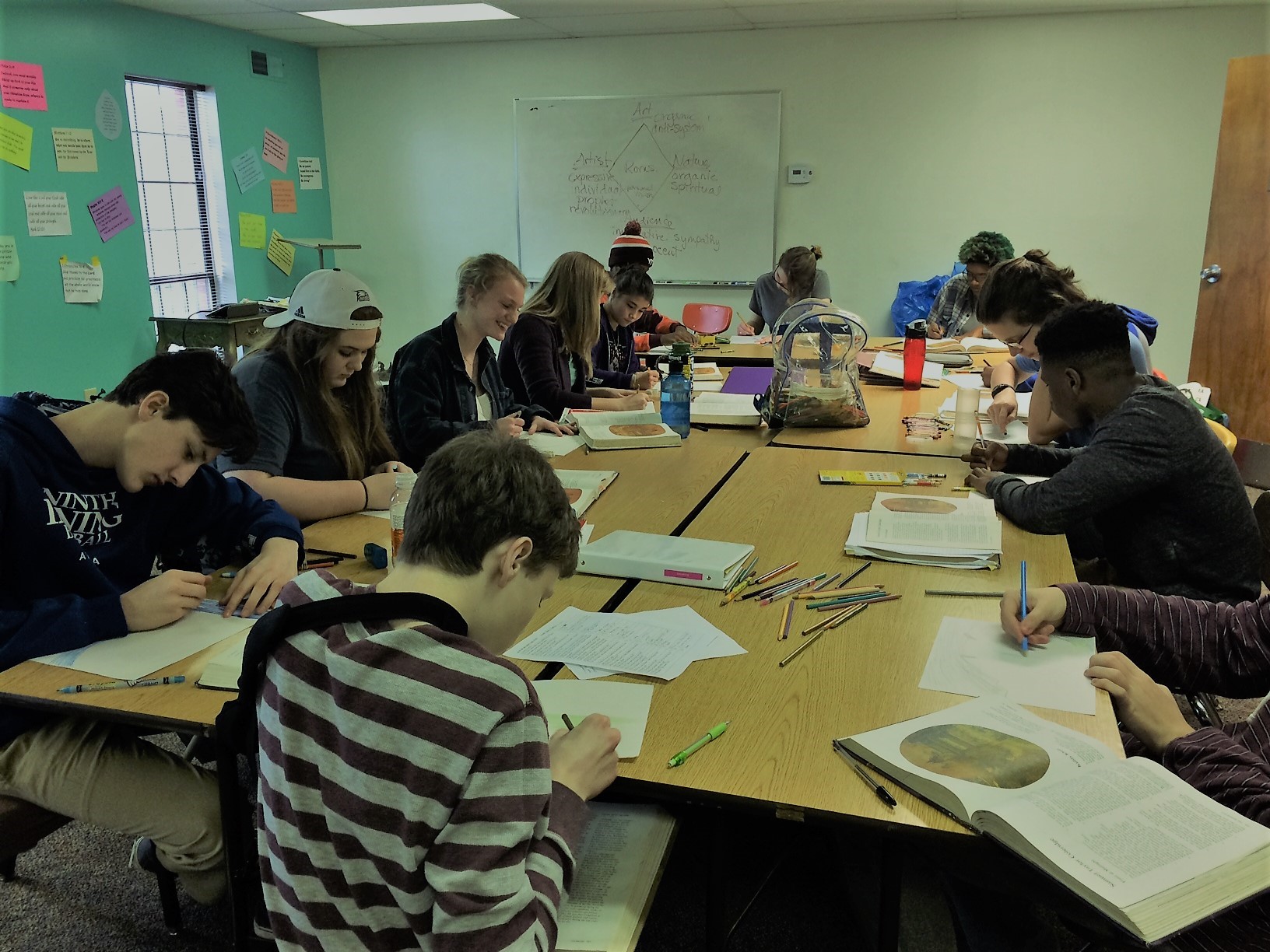 Learn about "Honors" option here: Honors Details
Grades: 10-12, 9 with permission of instructor
DOE course number: 23.05200
One core credit
One weekly class at Eastside with two 90-min sections
This is a great class for those who normally don't enjoy literature: there is plenty of action in Anglo-Saxon, Medieval, and Renaissance works, for example. The lit survey covers historical works and authors that every student should be familiar with before graduation—from Beowulf to Canterbury Tales to Wordsworth and T.S. Eliot. Students learn to read, analyze, and write about various styles of great literature, all of which were hits in their time and are still wonderful today. The three-hour class period enables students to enjoy some works that are lengthy and might otherwise be intimidating if a student sits at home alone, such as Hamlet or a British novel. Class discussions often lead into the "great world of ideas," and on-our-feet activities keep the class time moving and interactive. Role playing, illustrating, intelligent games, videos, and group work add variety to text study. The mock trial of Victor Frankenstein is often one of spring's activities. A final research project focuses on a modern author chosen by individual students, who then get to practice creative, visual ways to teach the class themselves.
Text: England in Literature, Scott Foresman, ISBN 0673129225. Textbooks are borrowed from instructor unless students want their own copies to write in (recommended for students who enjoy literature!).
Optional reading can add extra credit and/or honors credit. See list and plan here: Reading List
Would you like to meet up and talk about this class? Contact Margaret at shumanhw@gmail.com. We can meet for a walk or for coffee/tea at a location that works for us both! You can also visit any Shuman class with or without your student, any time. See current teaching schedule at MargaretShuman.com
Tuition info available on the respective sites:
Formal Course Description
Honors Details
© Margaret Shuman. All rights reserved